Grove Cottage needs your support to achieve a brighter 2023. By donating to us this festive season, you will ensure we continue to spread joy to local people of all ages with a learning disability and help them to live enriched lives.
Meet Ruth!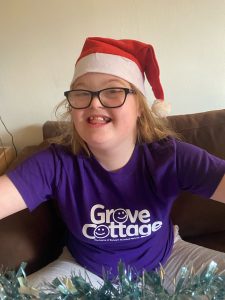 This Christmas, please help us support hundreds of people like Ruth, by donating a gift to ensure we can continue to spread joy and empower our members to live enriched and fulfilled lives, both now and in the future.
Ruth has been attending Grove Cottage since the age of one – she is now 15! Ruth has Down's Syndrome and presents with global developmental delay, and at the age of 15, is more akin to a pre-school child in terms of her abilities and interests.
Kate, Ruth's Mum says, "Ruth has severe learning difficulties, as well as some physical difficulties, but is fiercely independent and enjoys being able to do activities and go places without me – she is a teenager after all! Her difficulties mean she is unable to be left unattended and needs support to manage her own care needs and keep her safe.
"The team at Grove Cottage are absolutely outstanding in providing the care and support she needs to be independent of me, and gives her the chance to make her own friends and gain new experiences. Grove Cottage also provides invaluable support to our entire family, as we also benefit from the respite it provides us and gives us the chance to devote attention to our other child."
To leave your gift please complete the form below. Thank you