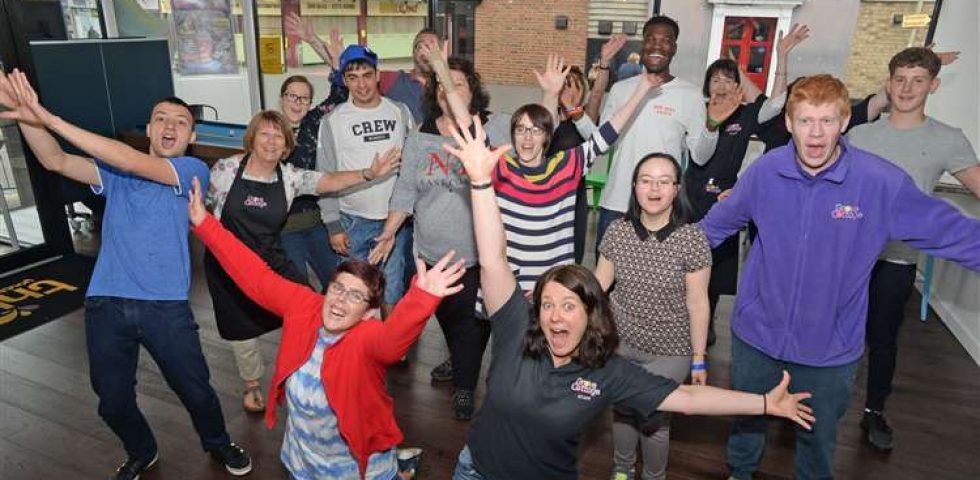 Grove Cottage celebrates National Learning Disability Week
Learning Disability Week is a national incentive to celebrate the lives of local people with Learning disabilities. Jocelin Warren, Operations Manager at Grove Cottage,  said "Learning Disability Week is a wonderful opportunity to celebrate our members and highlight the importance of inclusive activities for our members within the local community. The celebrations started on Saturday with members from three of Grove Cottage's clubs taking part in the Parade at Bishop's Stortford Carnival, we all had so much fun with the highlight of the day being our Performing Arts group singing three songs in the bandstand to rapturous applause!!"
Celebrations continued this week at Grove Cottage's Café Club which is run from Thirst Youth Café every Wednesday and Thursday from 10am-2pm. The theme for Learning Disability Week this year was 'Sport and Inclusion' and this was evident on Wednesday afternoon when a Zumba workout was held.
On Thursday afternoon Grove Cottage brought together three generations of the community with their Vintage Tea Party; Jocelin said "Our Grove Cottage special needs pre-school Nursery and our Café members were joined by residents from Elmhurst Residential home for a good old fashioned sing-a-long.  There was such a buzz in the café and it was really joyful to see young an old come together and enjoy themselves. It was particularly wonderful to celebrate Learning Disability Week this year from the Thirst Youth Café as last year we had thought we might have to close the club due to limited funds. This year the club has gone from strength to strength and we have developed some fantastic relationships with local businesses including Waitrose, Rhodes Art Complex, Elmhurst Residential home and Kick-start who have supported our Life skills Gateway award programme. We are now looking forward to another year in the café."
Grove Cottage is a small independent charity and although they are affiliated to the Royal Mencap Society they receive no funding from the national body. Grove Cottage costs us £400,000 a year to run and therefore rely heavily on support from the local community. Kevin Davis, Chairman at Grove Cottage said "We are so grateful to our supporters and volunteers who have helped us develop our offer over the last twelve months, we could not run without their support and donations."
Grove Cottage currently runs 10 different services, nearly all of which have availability. To find out more about our services and how you can get involved please visit Grove Cottage's website www.mencapgrovecottage.org. Anyone interested in our Special Needs Nursery should email nursery@mencapgrovecottage.org for more information. Anyone interested in accessing our other services should email om@mencapgrovecottage.org.
Return to Latest News