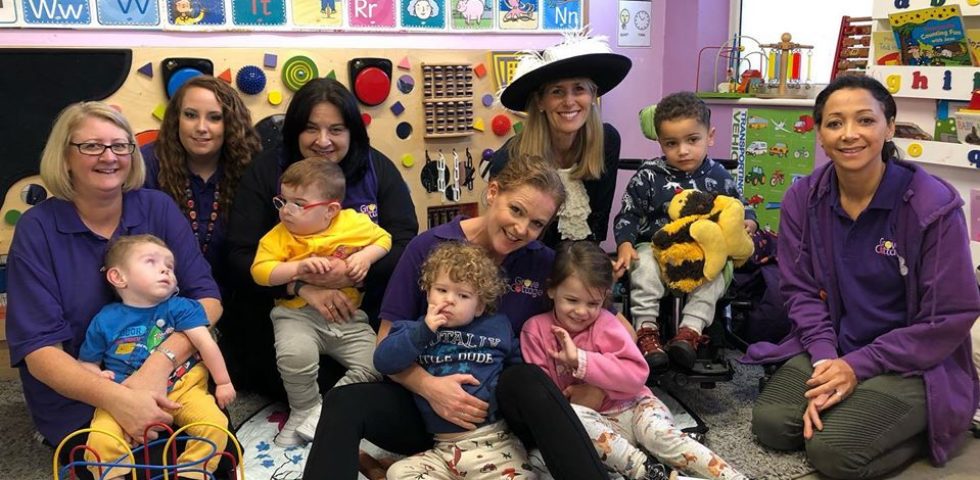 High Sheriff visits Grove Cottage's Special Needs Nursery
The High Sheriff of Hertfordshire, Sarah Beazley, has recently been in to visit Grove Cottage's Special Needs Nursery. At the facility she was introduced to children who are being supported and was shown around the current premises.
Sarah said of her visit "I was delighted to visit Grove Cottage and see first-hand the dedication of the staff who look after the children in the special needs nursery, helping them communicate through speech and language therapy and to grow in confidence, gain social skills and enjoy play. In the evenings, the space is used for a wide range of activities for adults and young people with learning disabilities. This charity has been providing these essential services to the community in Bishops Stortford for many years and I wish them every success as they plan to develop and improve their site and facilities."
The nursery, which is the only of its type in Hertfordshire, recently increased its provision from 4 days per week to 5 days per week which has enabled the children in their care to receive more of the vital one-to-one support that they desperately need. Additionally, this increase in support has enabled more spaces to become available and has increased the level of help and respite that families receive.
Maria Sims, Nursery Manager at Grove Cottage, said "It had been a long-term aim of ours to increase our provision to five days per week and we are delighted to have been able to do this. The increased hours have made a massive difference to the families who we support and we are so grateful to everyone who has donated and made this expansion possible."
Grove Cottage, a registered charity, would not have been able to expand their Nursery without support from the local community and grant-making organisations who have contributed to the nursery's running costs of over £100,000 per year.
The National Lottery Community Fund is one of the organisations who is supporting the nursery. As The National Lottery celebrates their 25th birthday on November 19th Rupal Shah, a fundraising officer for the fund, said: "We're delighted to be funding the Grove Cottage Nursery which provides a wonderful inclusive educational and care setting for children with special needs with weekly extra-curricular activities, fully qualified staff with access to special needs support therapists, as well as extensive parental support."
Return to Latest News