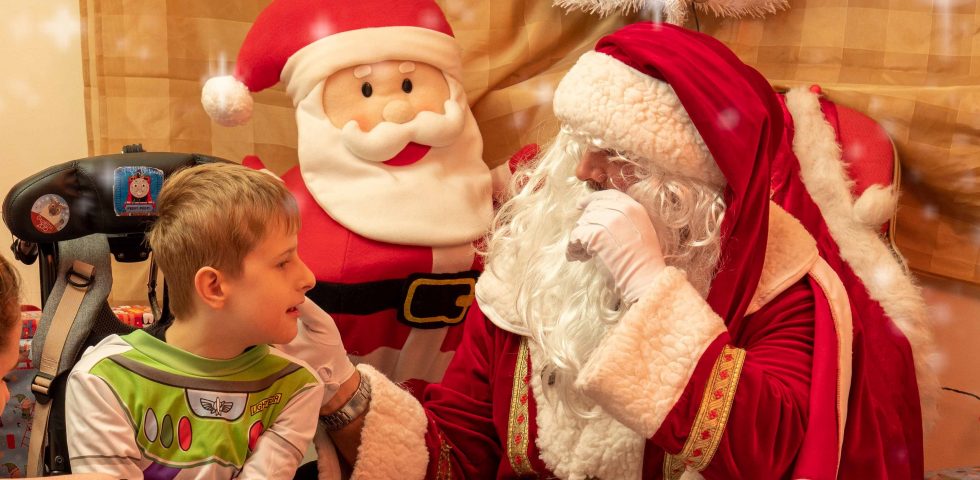 Children at Grove Cottage get the festive feeling!
A group of children and their families got into the festive spirit last weekend with a Christmas party that was held in their honour. All of the families are supported by Grove Cottage, the home of Mencap in Bishop's Stortford, with some benefiting from the charities Special Needs Nursery while others were members of the weekend clubs and school holiday clubs.
The party was organised by Daniel Robinson and Sons employee Debra Barton who got in touch with Grove Cottage a few months ago to express her desire to organise a party for the charities youngest members.
Debra said "I have been involved with Grove Cottage for many years as a volunteer and feel very passionate about what they do (so much so I jumped out of a plane last year).  I began volunteering at the Thursday night adult Club I am still involved indirectly supporting an autistic girl with Speech & Language skills."
"I wanted to provide a Christmas party for these children and their families, free from stigma. A time where the whole family can enjoy a space to just be themselves and not feel any pressure to be quicker or quieter. A time and space where parents can watch their children enjoy the magic of Christmas whilst they get an opportunity to engage with each other."
Jocelin Warren, Operations Manager at Grove Cottage, added "We were so thrilled when Debra contacted us and offered to hold a party for younger member at Grove Cottage Nursery and Saturday clubs.  This was a fantastic opportunity for our families to come together."
The party took place at St Michaels Mead Community Centre on Sunday 15th December and the children were able to enjoy a disco with food and they got to see Father Christmas! In the Santa's Grotto the children were all given a gift and there was an opportunity for families to have their photo taken together. It can often be difficult to take a child who has additional needs to see Father Christmas however at the party the children were able to spend as much or as little time in the grotto without their parents having to worry.
The event was also a wonderful opportunity for the families to get together with one another and meet others in a similar situation to them.
Jocelin thanked everyone who supported the event saying "We are so grateful to Debra for all of the hard work that she put into the party and cannot thank her enough for making this special event so wonderful. We would also like to thank Daniel Robinson and Sons for donating towards the event and to Nutty Pics for providing the photography."
James Horrax, father of Noah who attends our Special Needs Nursery said "Noah had a great time at the party, and he was very excited to see Father Christmas. It was lovely to be able to do this in an environment that was sympathetic to his needs as most Christmas parties can be quite intimidating and difficult for children like Noah."
If you know someone who could benefit from Grove Cottages services please contact info@mencapgrovecottage.org or call the office on 01279 656085. To find out more about the services that they offer please visit www.mencapgrovecottage.org.
Return to Latest News