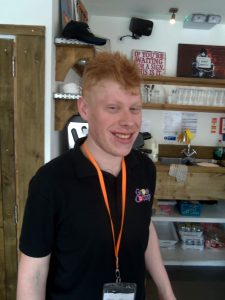 Harry is 18 and has a genetic condition which causes developmental delay. He has been coming to Grove Cottage since he was a young child and now attends our Youth Club, Get Active Club and Grove Cottage @ Thirst Cafe. Harry's favourite thing to do at Grove Cottage however is volunteering as a minibus chaperone! Harry's dad Graham drives the minibus for our Small Play Club and Harry enjoys helping him out and loves operating the tail lift! Harry's future dream for when he is older is to be a minibus driver for Grove Cottage.
Harry's favourite club at Grove Cottage is Youth Club because he gets to 'hang out' with his friends and he especially enjoys the occasional pamper night. He loves it when Youth Club go to the trampoline park but his favourite trip out is bowling and he always tries to get a strike.
For Harry, Grove Cottage is all about having fun and seeing his friends as without these weekly clubs there would be no opportunity to meet with them. When asked if he would recommend Grove Cottage he said he would because it's so much fun.