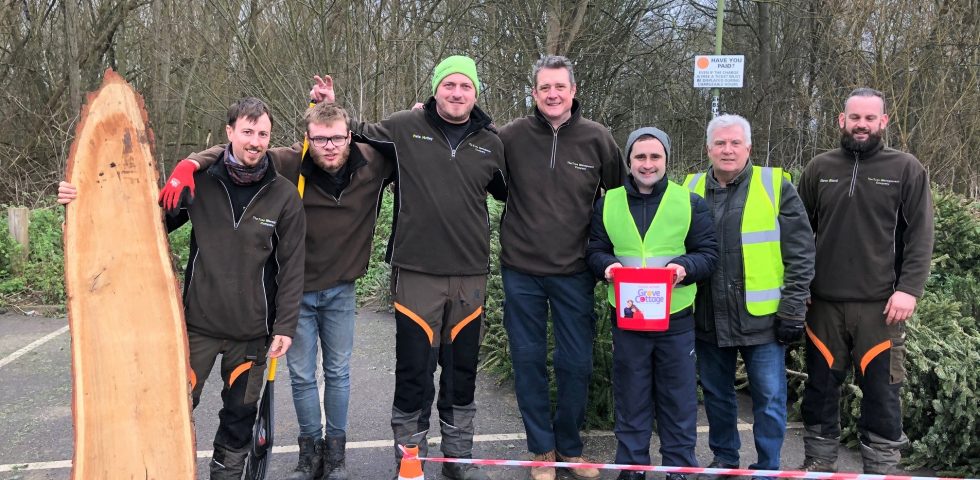 Christmas Tree Recycling raises a record amount of over £1,600 for Grove Cottage!
The fourth annual Christmas Tree Recycling event organised by Grove Cottage, the home of Mencap in Bishop's Stortford, has raised over £1,600 for the local charity.
Members of the public were invited to recycle their Christmas Trees on Sunday 5th January at the Link Road car park in Bishop's Stortford and a staggering 215 trees were recycled.
Grove Cottage have extended their thanks to everyone who brought their tree along and to all of the volunteers who helped on the day and to East Herts Council for their support. A massive thank you especially goes to Steve Bland and the team from The Tree Management Company (TTMC) who gave up their time and machinery for free.
 Rosie Wren, Grove Cottage Fundraising Manager said, "This is the fourth year that we have worked together with East Herts Council and TTMC on this project and the funds raised have increased year on year which is fantastic! With a donation to Grove Cottage given with every tree that is recycled we will be able to continue to give local people with a learning disability support, as well as their families and carers. Thank you so much to everyone involved."
Steve Bland, Managing Director from TTMC said: "We are delighted to be a part of this incentive that not only benefits Grove Cottage, an important local charity but recycles the trees sustainably too."
Return to Latest News