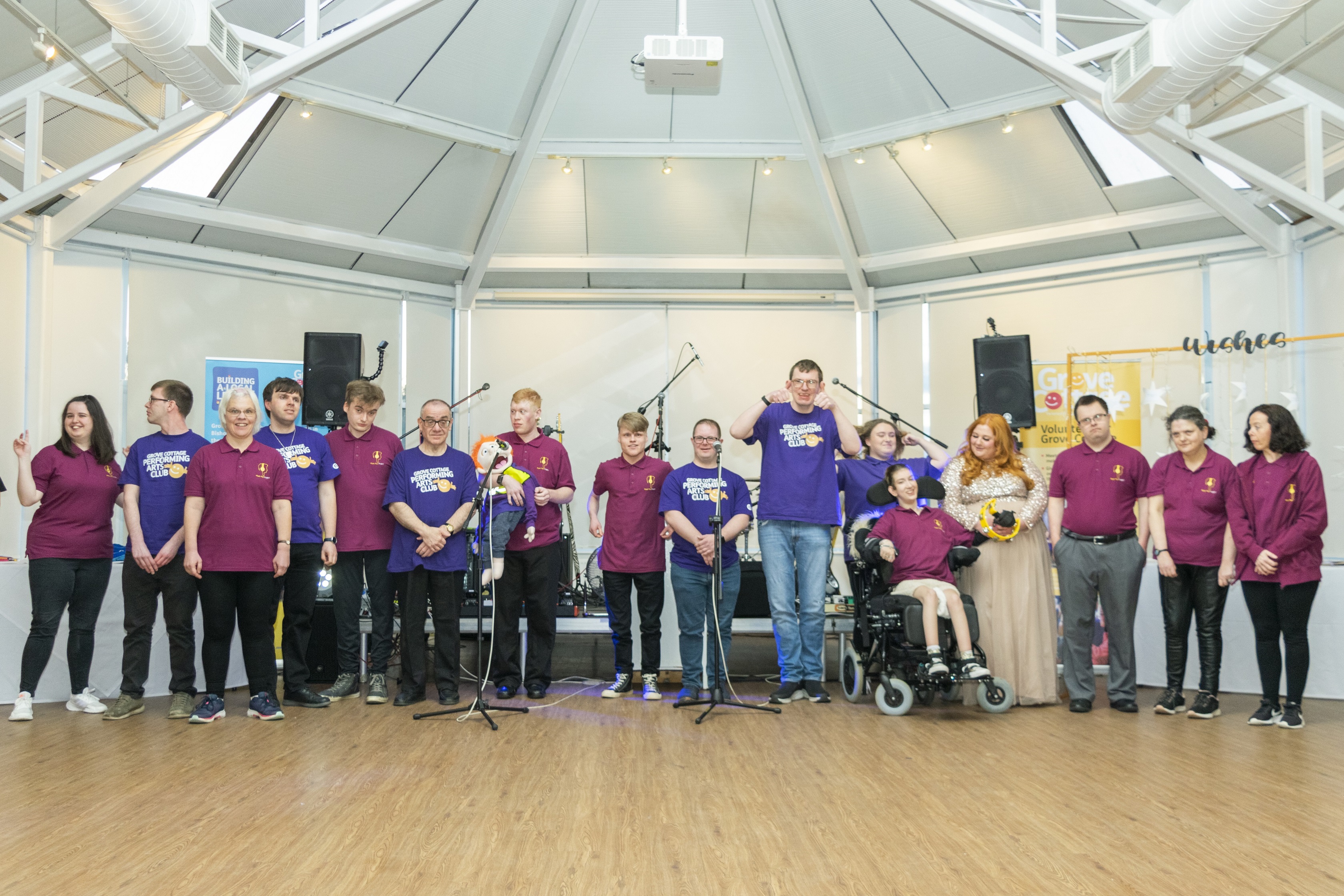 Dreams & Wishes Ball is a glittering success!
Over 200 guests were welcomed to the Manor of Groves Hotel and Country Club for Grove Cottage's much anticipated Dreams & Wishes Ball on Saturday 2nd April. The event, which was raising funds to enable Grove Cottage to continue to run their vital services to support people of all ages with learning disabilities, raised an amazing £24,000!
Guests at the event were treated to a sparkling reception followed by a sumptuous three course meal, auction, raffle, casino and music from the band 'Hot Parade'. The evening's activities were kicked off with a performance from Grove Cottage's Performing Arts Club and The Music Man Project Hertfordshire who treated the guests to a wonderful rendition of three songs including Take That's 'Greatest Day.' Performing Arts Club aims to give adult members the opportunity to meet and make friends with like-minded people, to learn new skills and have fun and take to the stage at events such as these. The Music Man Project is a music education club for people with a learning disability. It provides accessible music tuition leading to inspirational public performances through the singing, signing and playing of accessible musical instruments, using original repertoire written especially for the project.
Jeannie Philip, Community Fundraising Manager at Grove Cottage, said "This is the first Ball we have been able to hold since November 2019 because of the pandemic, and we are delighted that we had the highest number of guests and raised more money than ever before. Thank you so much to everyone who came along and helped make it such a wonderful evening especially our volunteer event organisers, Vicky Blair and Kellie Jones, who put so much time and effort into making the event a success. I would also like to thank our amazingly generous sponsors ARG Group, DOC Cleaning, HardSoft Computers, Genmar and Mantle Business Centres.
"The generosity of our supporters is invaluable and makes such a difference to the lives of our members and their families who rely on Grove Cottage to provide a safe, fun and enriching community. The income raised from this event will help us continue running our various services, including The Music Man project and Performing Arts Club."
Nicola Donohoe gave the parent speech at the event and said, "Our daughter Niamh joined Grove Cottage in September 2021 and attends the Saturday Clubs and Holiday Clubs which allows her to interact with her peer group outside of school and enjoy new experiences and interactions. It is really hard to hand your non-verbal and vulnerable child over to others and put your complete trust in their ability to care, but the team at Grove Cottage are fabulous and Niamh loves her time with them. I cannot tell you how important that is to us as her parents. The options for respite are so limited in the county. That's why Grove Cottage is so important to us.
"Grove Cottage relies heavily on voluntary donations to ensure that it can continue to provide the services it does for families like ours and children and adults like Niamh. Whether you have purchased a raffle ticket, bid on the auction or made a direct donation, it all makes a real, tangible difference to people's lives, to our lives, to Niamh's life and it means the world to us."
Return to Latest News