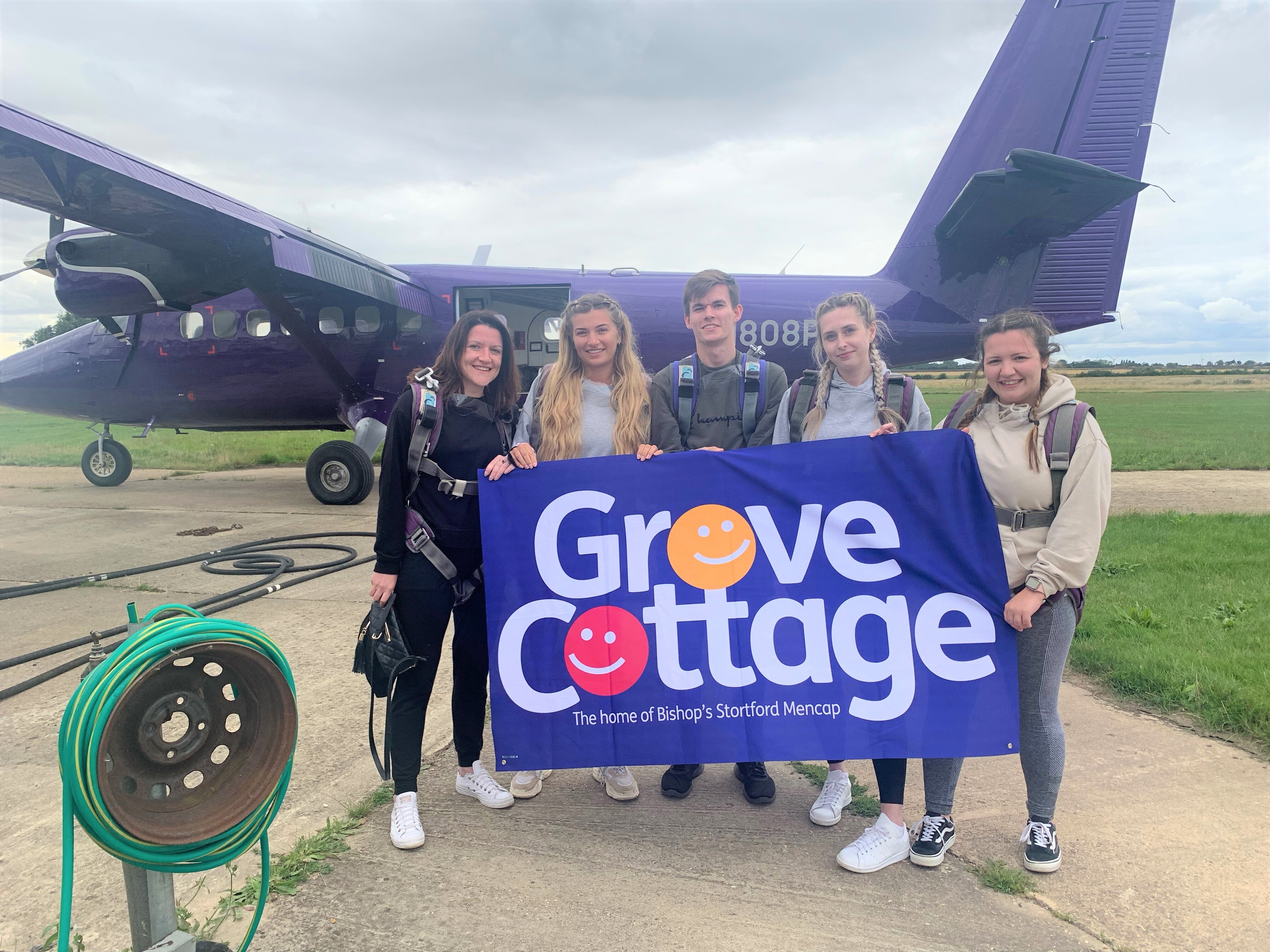 Five brave supporters take to the sky for Grove Cottage!
Five young thrill seekers took to the skies and raised almost £3,000 for Grove Cottage – the home of Bishop's Stortford Mencap, by skydiving from the dazzling heights of 13,000ft.
The team, who all work at Hard Soft Computers in Sawbridgeworth completed their tandem Sky Dive at the North London Sky Diving Centre on Saturday 14th August 2021.
Amongst the group were Ellie Reeve and Emma Barker who said: "The Skydive was amazing and we feel so privileged to have contributed to such a fantastic sum of money raised for Grove Cottage.
"After a super early start and a 2-hour drive, we were meant to jump at 11am but due to the weather we had to wait until 5pm – but the wait was absolutely worth it! When an opportunity like this comes up you can't say no. It's a chance to push yourself out of your comfort zone.
"We couldn't have done it without the rest of the team – Ben, Morgan and Claire. We were already close – but now we share an extra special bond. It was amazing to go through the experience together."
Grove Cottage operates a special educational needs nursery five days a week alongside many other clubs and activities for older children and adults. They provide social and educational activities for people of all ages with a learning disability to help them to reach their potential and avoid social isolation by supporting lifelong friendships. Grove Cottage also provides vital respite to families and carers.
Nicky Hastler, Community Fundraiser for Grove Cottage, thanked the participants saying "We are so extremely grateful to the team that took on this amazing challenge and really cannot thank them enough for their support. We would urge anyone who is interested in taking on a similar challenge for Grove Cottage to get in touch as we have a calendar full of sponsored cycles, runs, skydives and treks!" Our next Sky Dive is taking place on Saturday 16th October 2021.  To find out more please CLICK HERE
Return to Latest News