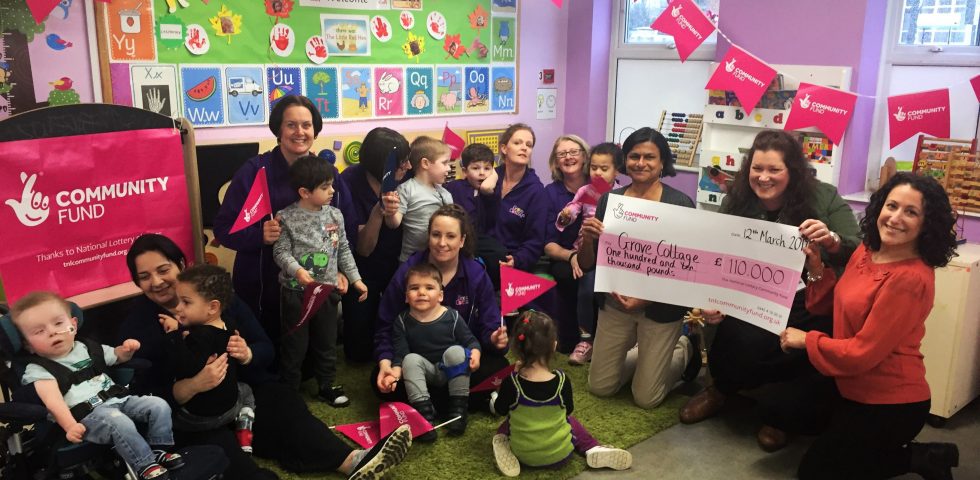 Grove Cottage's Special Needs Nursery is awarded £110,00 from the National Lottery Community Fund!
Grove Cottage – the home of Bishop's Stortford Mencap is delighted to announce that it has been awarded £110,000 worth of funding from The National Lottery Community Fund for its Ofsted–regulated Special Needs Nursery. The grant will help towards the costs of running the specialist Nursery over the next five years. 
The Grove Cottage Nursery is the only facility in Hertfordshire that is specifically designed for pre-school children with learning disabilities and complex medical needs. They are also able to support children who have not yet got a formal diagnosis in place but are showing signs of a delay, which is vital for many children with conditions such as Autism which can take many years to diagnose. The Nursery also provides specialist facilities, including a multi-sensory room and adapted outdoor play area, as well as weekly activities, such as swimming lessons. 
Maria Sims, Nursery Manager at Grove Cottage said: "Thanks to National Lottery players this funding means that we will be able to continue to provide support for children under 5 who have additional needs and for their families who often have no support. We have to raise approximately £45,000 every year to keep this facility open so this donation really has secured the future of our nursery for many families in the future."  
Rupal Shah from The National Lottery Community Fund said: "We're delighted to be funding the Grove Cottage Nursery which provides a wonderful inclusive educational and care setting for children with special needs with weekly extra-curricular activities, fully qualified staff with access to special needs support therapists, as well as extensive parental support." 
Grove Cottage urges any parents of children with additional needs to get in touch saying "We currently have places available within the nursery which runs Monday to Thursday and would encourage anyone who has a child with additional needs or with a developmental delay to get in touch. Anyone interested in finding out more should email nursery@mencapgrovecottage.org or call 01279 656085." 
Return to Latest News