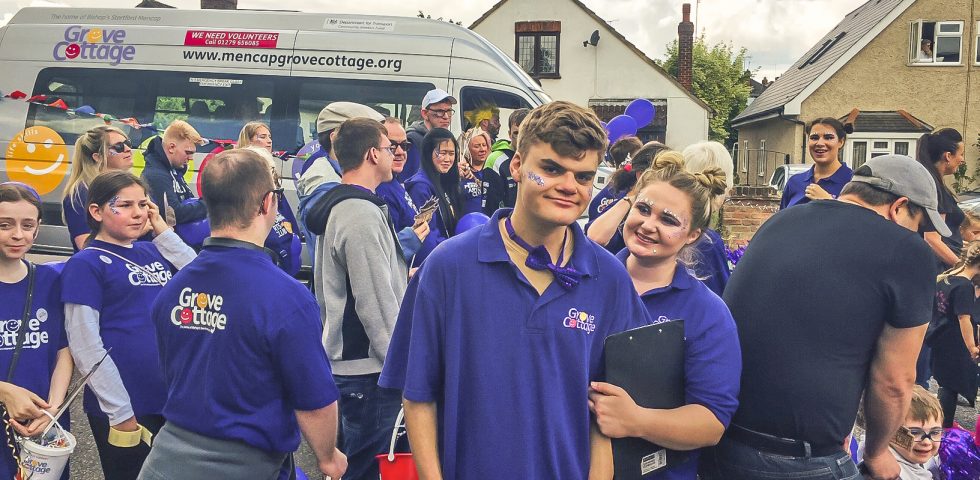 For 57 years Grove Cottage has been supporting those in the community with a learning disability and specialised additional needs by providing a place for our members to meet, make friends, learn new things, and have fun! We enable families and carers to have vital respite. Learning Disability Week for us is all about showing the world what life is like with a learning disability and recognising everything our members have achieved with the support of Grove Cottage. We are more than a charity, for many people we are a place of belonging, a community, a family.
Often our members start with us in our nursery and transition through to our clubs, we provide support to all ages and often see people attend Grove Cottage for their whole lifetime.
We spoke with Annie, the mother of one of our members. Her son Ollie has been with us since he was one year old,
"Grove Cottage has offered us so much as a family since Ollie was born. Ollie started attending a play group at Grove Cottage when he was just one. This was the time that we were embarking on the new and scary life of special needs, full of doctors and diagnoses. This group enabled us to have 'normal' experiences with Ollie for his age, as well as providing much needed support. Here, we made lifelong friends who have been with us throughout our journey.
As Ollie got older, Grove Cottage provided respite for us as a family. His behaviour became harder to manage and there were very few places that would agree to look after him, let alone where we felt we could trust to keep him safe. At Grove Cottage, Ollie has never been made to feel 'too much' to manage, and it has enabled him to enjoy himself, as well as providing our family with vital respite, and quality time with our daughter.
Now, Ollie is an adult and his needs have changed once more, but Grove Cottage is still here to support him and us as a family. Ollie attends Grove Cottage clubs for vital integration and socialisation with people his own age, and gains much from his relationships with the amazing staff and volunteers too. 
Grove Cottage has been with us as a family for Ollie's entire life, and it will be part of his life for long into the future. They have supported us every step of the way, and we honestly don't know where we would be without it!"
Grove Cottage is determined to create positive change and work towards a world whereby people with learning difficulties will no longer be limited in opportunities instead they are encouraged to celebrate their successes and embrace their differences to unlock their full potential.
We invite everyone in the community to join us in our mission this Learning Disability Week, to shine a spotlight and raise awareness of learning disabilities:
Start a conversation about learning disabilities, whether that be at work, school, with friends/family. Are you aware of how to support people with Learning Disabilities either socially or professionally? There are lots of resources on Mencap's website What Is A Learning Disability? See Our Definition | Mencap Together we can break the stigma that many people with learning disabilities sadly still face.
Follow our social media journey this week (19-25th June). We are welcoming you into 'A week in the life of Grove Cottage' virtually visit our clubs and meet some of our members & staff.
Glow for Grove – we would love as many people as possible, companies and groups to dress in bright clothes, shining a light on what life is like with a learning disability. To get involved or donate: Glow for Grove – JustGiving
Grove Cottage would also like to take this opportunity to thank the local community for all their support, be that our volunteers who enable our clubs and services to go ahead or those that donate. All your support helps us to change lives, shape futures, and enable all those who attend Grove Cottage to reach their full potential.
It costs over £500,000 per year to run Grove Cottage per year and although we are affiliated with The Royal Mencap Society, we run independently, and we receive no funding from the national body.
How ever you engage with Learning Disability Week Grove Cottage we would love to hear about it!
Use our hashtag #LDWeekGroveCottage
Return to Latest News