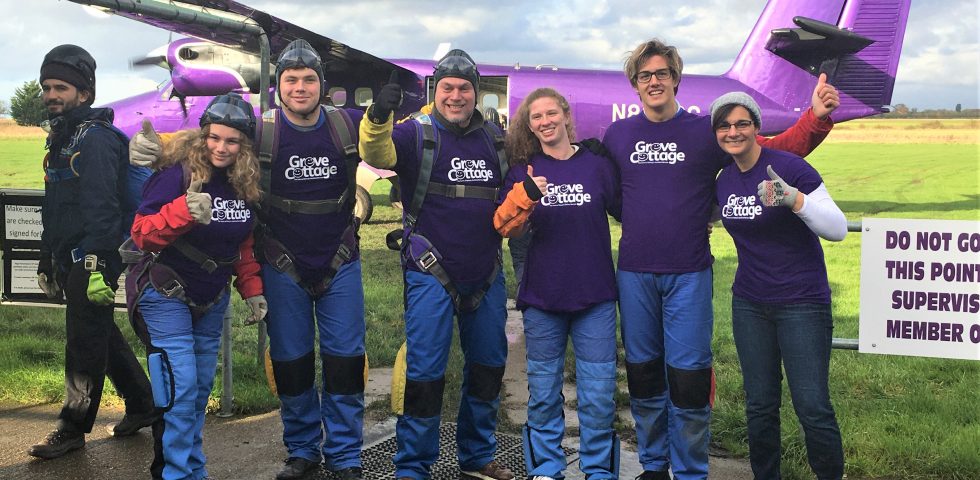 Six brave supporters take to the sky for Grove Cottage
Six thrill seekers took to the skies on Sunday 10th November and raised a staggering £3,300 for Grove Cottage by skydiving from the dazzling heights of 13,000ft. Tandem skydiving is on many people's 'bucket' lists and enables you to experience every aspect of skydiving on your very first jump. Soaring to 13,000ft in an aircraft the brave supporters of Grove Cottage enjoyed the thrill of a 120mph free fall, securely attached to a highly experienced instructor, before the parachute deployed and they floated slowly back to earth.
Amongst the group were friends Nick Botha, 17 and Nellie Eastland, 17. Nick, who volunteers on a weekly basis with the Tuesday night Youth Club at Grove Cottage, knows first-hand the difference that the charity makes to the lives of those with learning disabilities. Nick started volunteering to help others less fortunate than himself and said of the challenge "The Skydive was amazing and I feel so privileged to have contributed to such a fantastic sum of money raised for Grove Cottage."
Grove Cottage operates a Special Educational Needs Nursery five days a week, alongside many other clubs and activities for older children and adults. They aim to provide social and educational activities for people of all ages with a learning disability to help them to reach their potential and avoid social isolation by supporting lifelong friendships. Grove Cottage also provides vital respite to families and carers.
Nick knows only too well how important fundraising and community donations are and said "Without donations and fundraising like this Grove Cottage would not be able to run, which would be devastating for so many children and adults with learning disabilities. I want to give these children and adults equal opportunities to socialise and gain confidence and fundraising for the skydiving has been an utterly rewarding and amazing experience."
Also among the team were father, son and daughter trio David, William and Emily Bide.  David, 51, had been keen to tick this off his bucket list since his wife, Nicki, skydived as part of her 40th celebrations a few years ago. David, William and Emily all thoroughly enjoyed the experience with David saying, "The jump was completely exhilarating and I'm so proud we have raised such an incredible amount for Grove Cottage."
The charity's next sky dive is taking place on Sunday April 26 and David went on to say "I would encourage anyone considering a skydive to get in touch with Grove Cottage and help to support this vital and worthwhile local charity in Bishops Stortford."
Including Gift Aid the team has raised over £3,300 for Grove Cottage which has been supporting the local community for over 50 years.
Nicky Hastler, Community Fundraiser for Grove Cottage, thanked the participants saying: 'We are so extremely grateful to the team that took on this amazing challenge and really cannot thank them enough for their support. We would urge anyone who is interested in taking on a similar challenge for Grove Cottage to get in touch as we have a calendar full of sponsored cycles, runs, skydives and treks!'. To find out more please email events@mencapgrovecottage.org or call the office on 01279 651908.
Return to Latest News