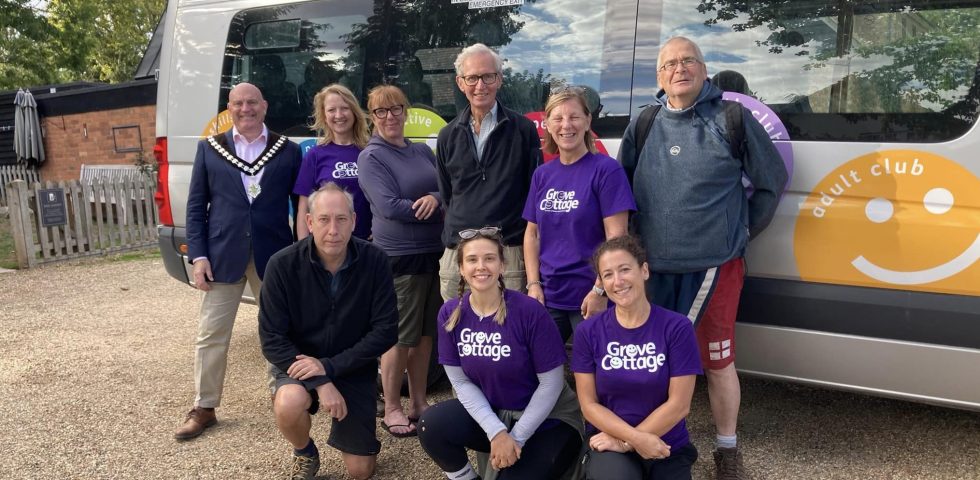 The Great Big Walk for Herts
On Saturday 24th September a team of ten, made up of Grove Cottage staff, Trustees and supporters, including Grove Cottage member Rebecca Cann and Bishop's Stortford Mayor, Dave Anderson, walked 12 miles as part of the Great Big Walk for Herts, which took them just over 6 and a half hours.
The Great Big Walk for Herts was organised by Helping Herts, the official charity of the Stort Valley Rotary Club. Helping Herts brought together 12 different children's charities, each walking a different leg of the 'Hertfordshire Way' on the same day, totalling a whopping 180 miles, in a bid to raise money to help the charities carry out their vital work to support children and their families in Hertfordshire.
The team, guided by a Gordon Finley from the 'Friends of the Hertfordshire Way', set off from St Michael's Church on Windhill and made their way to the Beehive Pub on Hare Street, whilst meandering through the glorious local countryside. Mayor, Dave Anderson intended to only accompany the team out of Bishop's Stortford – but once the walk had started, he decided to continue the whole way despite not necessarily being dressed for the occasion and wearing his heavy Mayoral chain!
Rebecca Cann has been a member at Grove Cottage for eight years and regularly attends Get Active Club and Cottage Crew Club on a Saturday. She joined the team with her aunt and mum who said, "We took part in the sponsored walk because we wanted to give back a little. We enjoyed the company, it was a beautiful day, the paths, the coffee and cake, everything was enjoyable.
"We would like to thank everyone who has donated. Grove Cottage gives so much to the community. It provides a safe and fun environment for its members and is a great place to make friends."
The Grove Cottage team have currently raised £1,400 via their fundraising page, with the Chaldean Charitable Trust offering matched funding. Therefore, with the support of the Chaldean Charitable Trust, Grove Cottage will receive around £2,800 for this fundraiser.
Jeannie Philip, Community Fundraising Manager at Grove Cottage said, "We had an amazing time on Saturday, we were extremely lucky with the weather and the morale within the team was wonderful. It was fantastic to have Rebecca and her family with us on the day as a reminder of who could directly benefit from our fundraising efforts. I would like to take this opportunity to say a huge well done to all those two took part and a massive thank you to those who have donated so far. We are very grateful to Helping Herts, the Chaldean Charitable Trust and the Friends of the Hertfordshire way for making this event possible.
There is still time to donate on the page https://herts.heroes.help/campaigns/Team-Grove-Cottage-Hertfordshire-Way and all proceeds will ensure Grove Cottage continues to provide services for local people with learning disabilities.
Return to Latest News