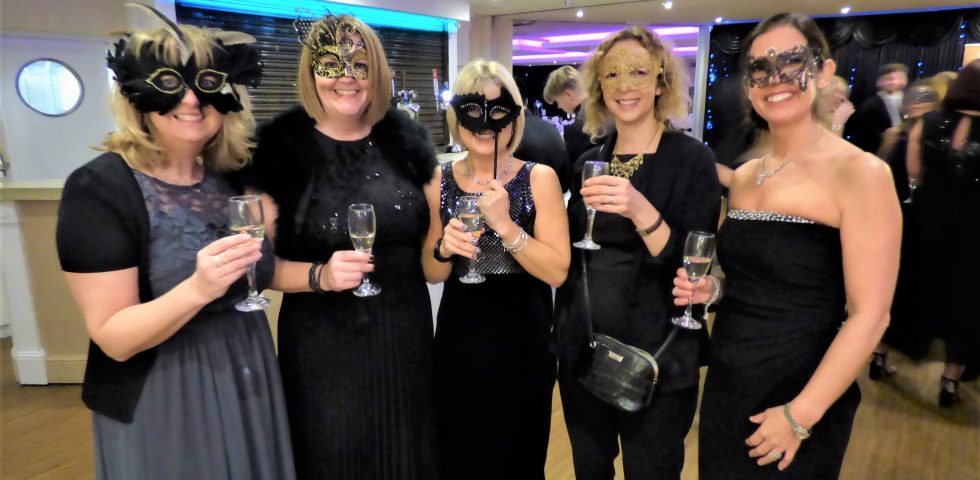 There was glamour and glitz at Grove Cottage's Masquerade Ball!
Over 170 guests were welcomed to Manor of Groves Hotel and Country Club for Grove Cottage's much anticipated Masquerade Ball on Saturday 9th November. The event, which was raising funds to enable Grove Cottage to continue running their ten services which support people of all ages with learning disabilities, raised a staggering £20,000.
Guests at the event were treated to a sparkling reception followed by a sumptuous three course meal. The evenings activities were kicked off with a performance from Grove Cottage's Performing Arts Club who treated the guests to a rendition of three songs which was followed by a roaring applause. There was also an auction, raffle and numerous games for attendees to get involved with.
Once the meal had been savoured and the auction and raffle called the dance floor was a-flood with dancing bodies enjoying the live music from band Hit Parade. The roulette wheel was spinning and chips were flying on the blackjack table as guests put their luck to the test with the casino supplied by Funky Casinos.
The event's Premier Sponsor, K Mosby Financial Associates, attended on the night and Managing Director Kevin said "We were thrilled to once again be able to support the Grove Cottage Black Tie Ball and were delighted to hear how much the event raised. Everyone had a wonderful time on the night which was made better by the fact that we were supporting such a worthy local charity."
Rosie Wren, Fundraising Manager at Grove Cottage, said; "It was fantastic to see so many people come and support this event! We are thrilled with how it went and so pleased that everyone seemed to enjoy themselves so much. Thank you so much to everyone who came along and helped make it such a wonderful evening and a massive thank you to volunteers Vicky Blair and Kellie Jones who have put so much time and effort into making this event a success. Lastly, I must also thank our Premier Sponsor, K Mosby, Event Sponsor, DOC Cleaning and Event partner HR Go. "
Return to Latest News