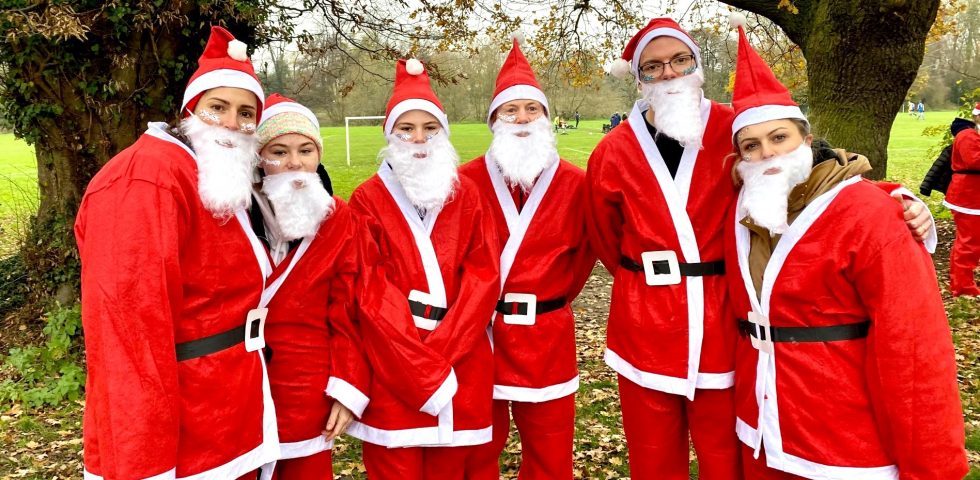 Highest number of participants at this year's Santa Dash and Reindeer Run!
Our Santa Dash and Reindeer Run held on Sunday 4th December was once again a great success which saw double the number of participants than previous years and raised an amazing £3,138!
158 Santa's and 76 Reindeers (a total of 234) took part in the 1K and 5K routes around the grounds at Grange Paddocks and Sworders Field. Children aged 12 and under completed the 1K route and were given festive antlers to wear, along with a medal for finishing the race whilst over 12's were provided with a rather fetching Santa Suit.
Grove Cottage member, Josh Wright, 25, was delighted to start the race, together with  Dave Anderson, the Mayor of Bishop's Stortford Town Council, who also completed the 1K route, in a Santa Suit and his Mayoral chain!
It was the eighth year that the event has been run and popularity has grown year on year. Fundraising from the event will help Grove Cottage to continue to offer vital clubs and services for people in the local area who have learning disabilities.
Alison Cameron, Fundraising Assistant at Grove Cottage, was thrilled with the turnout saying; "It was wonderful to see over 200 people support our Santa Dash this year, which is more than double what we had last year!
"Everyone had so much fun and we hope that this event has got everyone feeling Christmassy. We would like to thank everyone who took part, our amazing volunteers for all their hard work on the day and our event sponsor HardSoft Computers for once again supporting the event. Huge thanks also to the team at Grange Paddocks who helped ensure everything went smoothly."
Return to Latest News