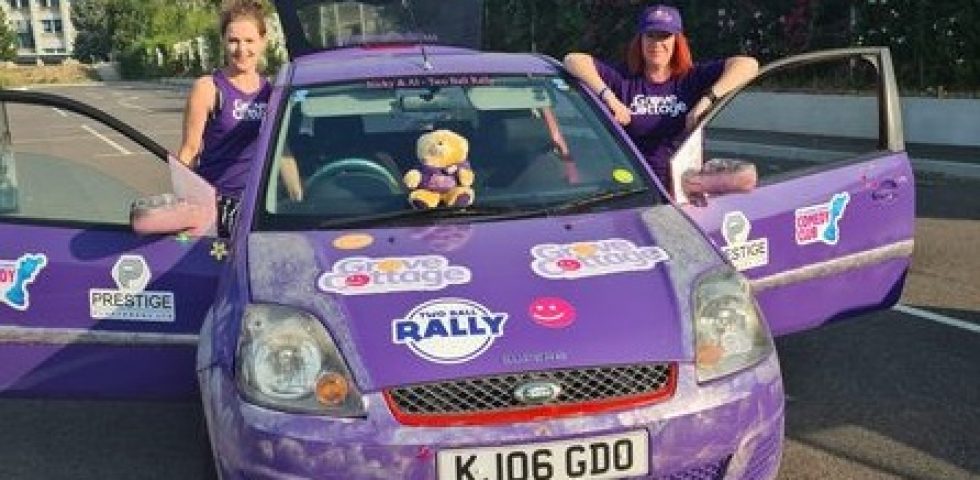 Two Ball Rally Road Trippers raise almost £4,000 for Grove Cottage!
Allison Smith, from Bishop's Stortford, and her friend Nicky Rooke, recently took part in the gruelling Two Ball Banger Beach Rally – a road trip which started in Saint Quentin, France on 22nd July, travelling through France and Italy and finished in Barcelona on 25th July 2022, all in an old Ford Fiesta to raise money for Grove Cottage.
Allison works at Grove Cottage's Special Needs Nursey and sees first-hand what a difference it makes to the children who attend. It's for this reason she, alongside her friend Nicky, decided to take on this crazy mission to raise vital funds for Grove Cottage. So far, they have raised almost £4,000 which is amazing.
Allison said, "It was much tougher than we thought. Each day was very full on, so it was extremely tiring. Not only are you driving into the unknown each day, not knowing the roads or places and contending with the local drivers, but we were also driving during the heatwave in a car with no air conditioning in 39c temperatures!
"One of the highlights of the trip was after facing the heights and sheer drops of the roads through the Alps, reaching the top was not just a huge relief (that us and the car made it in one piece) but also a very proud moment.
"This challenge was all about raising the profile of Grove Cottage and raising much needed funds to benefit all its members. This amazing local charity not only means a lot to me, but to so many others, so I want to thank everyone who has supported us with a donation, as well as the generous support of our sponsors – The Laughing Bishops Comedy Club, Prestige Plasterers, Croucher and Needham Accountants, Fab Science and Forefront Signs.
Nicky said, "Through the challenge we learnt that we are more determined and braver than we thought. We faced each challenge and made it through, most of the time with a laugh and smile on our face, except for the hysterical tears going over the Alps!"
Jeannie Philip, Community Fundraising Manager said, "We are so proud of them both to have undertaken this difficult challenge, especially during the July heatwave, and are thrilled with the amount they have raised which will help us to support local people with learning disabilities. You can still support Allison and Nicky via their Just Giving page at www.justgiving.com/fundraising/alandnickyrally."
Return to Latest News