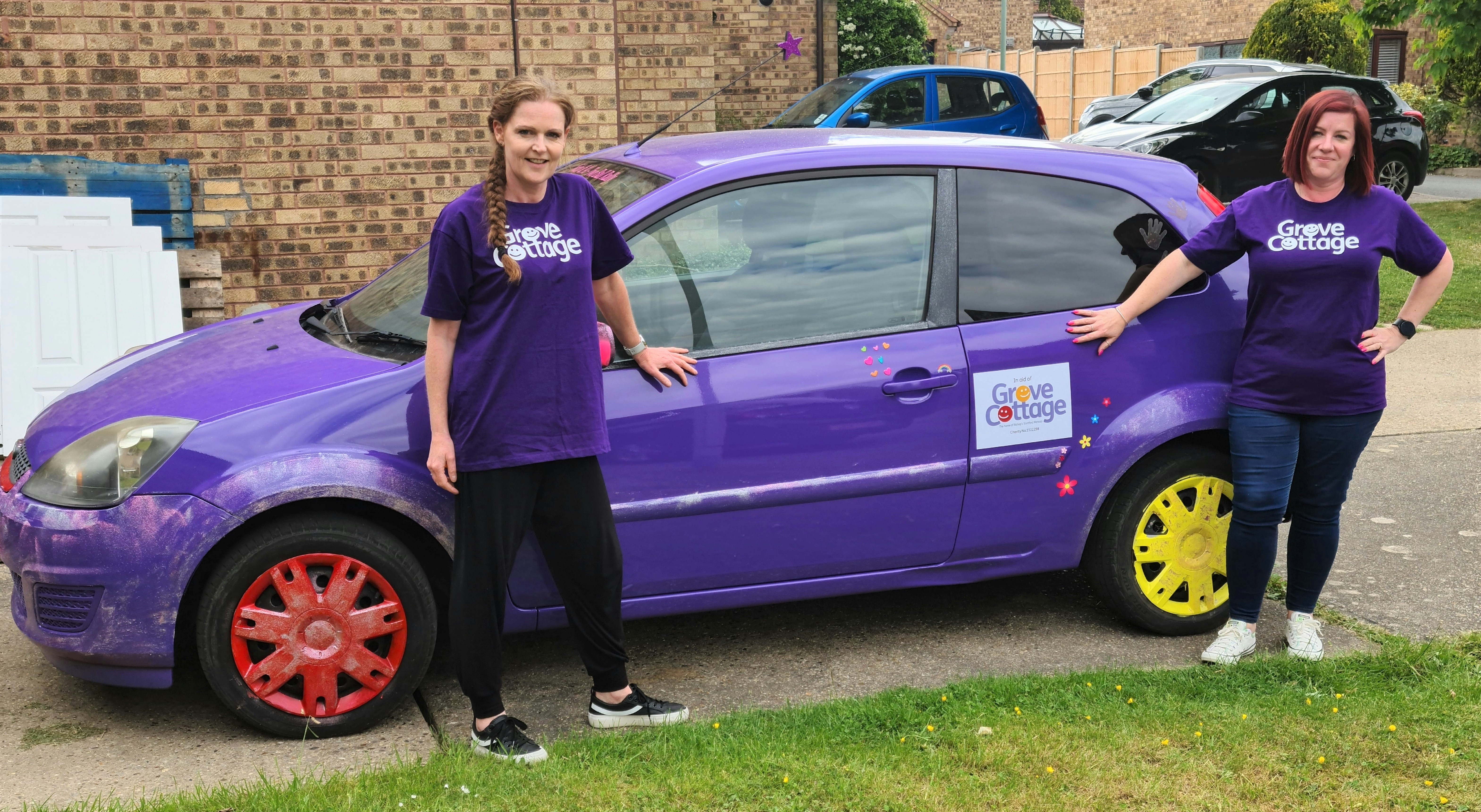 Two friends take part in European Road Race to raise money for Grove Cottage!
Allison Smith, 48, from Bishop's Stortford and her friend Nicky Rooke, 44, are embarking on a road trip of a lifetime next month when they take part in the Two Ball Banger Beach Rally. The road trip starts in Saint Quentin, France on 22nd July, travelling through France and Italy and finishing in Barcelona on 25th July 2022, taking in on route the French Alps and the Pyrenees mountains – all in an old Ford Fiesta which cost £450!
Allison works at Grove Cottage's Special Needs Nursery and sees first-hand what a difference it makes to the children who attend. It's for this reason she, alongside her friend Nicky, decided to take on this crazy mission to raise vital funds for Grove Cottage. Allison says, "I have seen at first-hand how our Special Needs Nursery has provided so many opportunities, not just for the children attending Grove Cottage, but also the family. It has had such a positive impact and has literally changed the lives of some families.
"Some children may have struggled in previous settings, or never left the family home due to the support not being available. This can cause some families/caregivers to feel neglected by the system and struggling to cope themselves. Seeing these children integrate within our Nursery, gain confidence and self-esteem is amazing. Also seeing the positive impact this then has on their family, as well as providing them with much needed respite. Our Nursery offers the children a safe and supportive environment and it can be a lifeline for some, not just for the child, but for the whole family unit."
Allison continues: "I have never driven abroad so to complete this incredible challenge would be an achievement in itself, but to be able to raise a lot of money for this amazing local charity that means so much to me, would be fantastic."
It was Nicky who first came across the 'Two Ball Rally' and said, "I thought this experience would be tough to take on, something that would really test us from the start to finish. I know how much Allison enjoys her job and what it means to her. We wanted to come up with a unique and challenging way of raising money and do something that hasn't been done before to really get people behind us."
The challenge would not have been possible without the generous support of some local companies who have sponsored them – The Laughing Bishops Comedy Club, Prestige Plasterers, Croucher and Needham Accountants, Fab Science and Forefront Signs.
Lloyd Richards from Forefront Signs said, "We're proud to support Nicky and Allison in the Two Ball Rally to Barcelona. What an exciting adventure and a great way to raise funds for such a worthwhile local charity."
Paddy Lennox, from The Laughing Bishops Comedy Club said, "I am already a supporter of Grove Cottage and when I saw what Allison and Nicky were doing to raise money, I was really keen to get involved and sponsor them. This challenge is huge and will hopefully be a lot of fun. I'm delighted I could help in some way, to not only support them but also a much-loved local charity."
With the rising cost of petrol, they really need your support. If you can help them with any funding/sponsorship please email them at alandnickyrally@gmail.com
They can then concentrate on raising as much as possible to support people of all ages with learning disabilities. If you would like to donate please do so via their Just Giving page at www.justgiving.com/fundraising/alandnickyrally
Return to Latest News