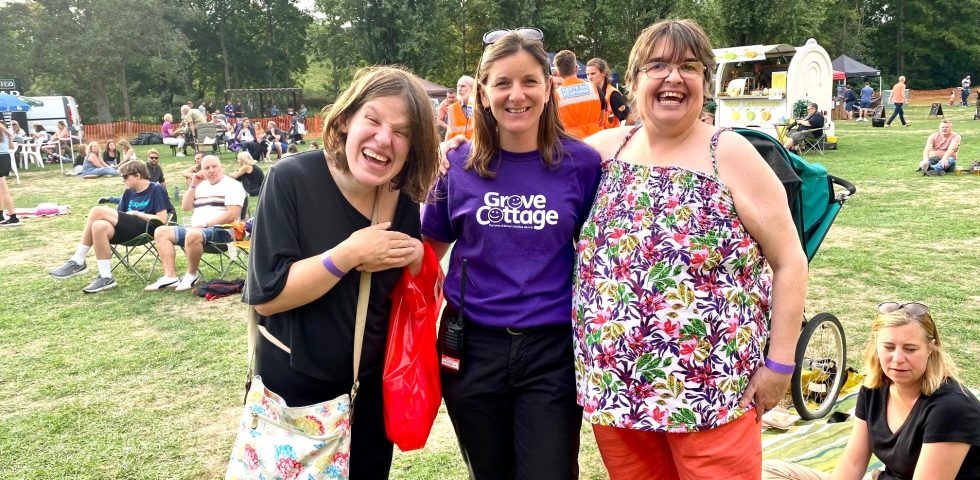 Grove Cottage in the Park was a huge success!
The sun shone over Sworders Field in Bishop's Stortford for our 'Grove Cottage in the Park' food and music festival, sponsored by Countryside at St James' Park, which was held on Saturday 3rd September. The event did not disappoint – attracting around 1,100 visitors and raising approximately £11,000 for Grove Cottage, which is the most that this type of event has ever raised for the charity.
A number of local bands and entertainers took to the stage to perform a wide range of live music including Livewire Rock Academy, students from De Rosa Music School, Grove Cottage Performing Arts, Woodwind of Stortford, Bishop's Stortford Gospel Choir, J & J Duo and Steve Young and the Real Time Players.
Then from around 6pm, stand-up comedy legend and actor Paddy Lennox took centre stage with his mischievous sense of humour, followed by local rock cover band The Lackeys who headlined the event with a range of hits from the 1950's to the present day.
Attendees were treated to a wide variety of hot food to suit any appetite including mexican quesadillas, Caribbean jerk chicken, Thai specialities, pizza and a hog roast. If that wasn't enough, there was also a number of sweet treats including fudge, waffles, donuts and ice cream.
Local company, Hadham Brewery also attended to showcase their handcrafted ales, alongside a real lemonade bar, prosecco from The Suffolk Horsebox Bar and a delightful selection of gin from Ginporium. There was also plenty of fun for the kids including bouncy castles, arts and crafts from The Little Arts Workshop and face painting.
Jeannie Philip, Community Fundraising Manager at Grove Cottage, said; "It was fantastic to see so many people come and support our event and enjoy a great day of local food and music in the centre of Bishop's Stortford. We are thrilled with how it went and could not have done it without the help of our many volunteers who worked tirelessly to ensure the event was such a success.
"We are delighted with how much money we have raised which will enable us to continue providing vital services to local people with learning disabilities. We rely heavily on the support of the community, so events like these are invaluable to us.
"Finally, I must thank our sponsors who made the event possible – our headline sponsor – Countryside, the developer of St James' Park, as well as Tees, HRGo Recruitment, Russell Property and DOC Cleaning.
Return to Latest News