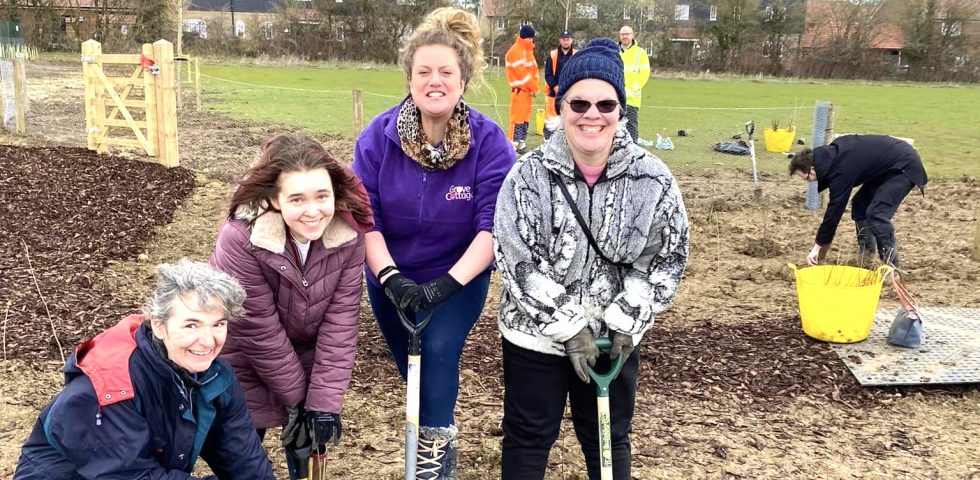 Grove Grows members plant trees as part of St James' Park's Tiny Forest initiative
Grove Grows, our weekly gardening club, joined Countryside Partnerships' St James' Park development on 21st March as it launched its Tiny Forest initiative. Tiny Forests is a programme run by Earthwatch Europe.
The members of Grove Grows joined other community groups including The Bishop's Stortford High School and Thorley Hill Primary School, to plant a total of 600 trees as part of the new St James' Park native woodland, Bishop's Stortford's new Tiny Forest.
Grove Grows members had fun at the launch event, and have all signed up to become a Tiny Forest Tree Keeper.  Working with Earthwatch, our members will act as ambassadors for the forest, helping to maintain and monitor the forest in the early years, collecting data on the forest's growth, carbon storage and biodiversity.
Jocelin Warren, Operations Manager at Grove Cottage said, "We were delighted to be invited to be a part of this fantastic new project. It is so important for the local community to work together to maintain green spaces that will help maintain a better future for all. We look forward to and will take pride in watching the Tiny Forest grow over years to come."
Return to Latest News