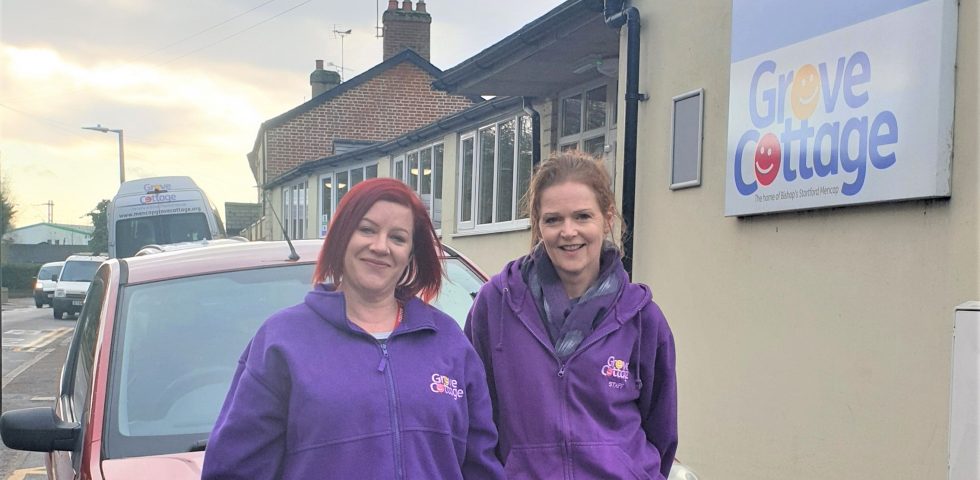 Sponsors needed for Two Ball Beach Banger Rally in aid of Grove Cottage!
Two Grove Cottage supporters are seeking sponsorship from local businesses as they embark on a daring challenge across Europe this summer which will test their mental state of mind, teamwork, driving and navigational skills.
The 'Two Ball Beach Banger Rally' will take the two friends, Allison Smith and Nicola Rooke, almost 1,300 miles through three countries over four days in a banger, all to raise vital funds for local charity Grove Cottage.
This European Road trip starts in Saint Quentin, France on 22nd July 2022, travelling through France and Italy and finishing in Barcelona on 25th July 2022, taking in on route the French Alps and the Pyrenees mountains.
Allison Smith, 48, from Bishops Stortford, works in the highly acclaimed Special Needs Nursery at Grove Cottage and Nicola Rooke, 44, who lives in Norfolk, works in Customer Experience for Richardson's Boating Holidays. They decided to take on this rally, which will see them completing outrageous daily challenges, to test their mental state of mind, teamwork, driving and navigational skills… All in a car that costs under £567!
Allison has worked as a key person for the Ofsted Regulated Special Needs Nursery at Grove Cottage for over 4 years. The Nursery welcomes children under 5 years with a variety of additional needs, providing early intervention and supports not only the children, but the family as a whole.
"Allison says, "I have seen at first-hand how our Special Needs Nursery has provided so many opportunities, not just for the children attending Grove Cottage, but also the family. It has had such a positive impact and literally changed the lives of some families".
Grove Cottage, the home of Bishops Stortford Mencap, also supports older children and adults of all ages through a wide range of social, creative, fitness and life skills clubs.  These clubs provide invaluable social and educational support to so many, as well as much needed respite for families.
Allison continues: "I have never driven abroad so to complete this incredible challenge would be an achievement in itself, but to be able to raise a lot of money for this amazing local charity that means so much to me, would be fantastic."
It was Nicola who first came across the 'Two Ball Rally' and said, "I thought this experience would be tough to take on, something that would test us from the start to finish."
Allison jumped at the chance of doing it with her friend and using the opportunity to raise some vital funds for Grove Cottage.
The friends are now seeking sponsors to help them achieve their goal of raising as much as possible for this amazing local charity and want to thank their first sponsor: "We want to say a massive thank you to Croucher Needham Accountants who have already offered to help support us by generously offering some sponsorship." Croucher Needham are dynamic and progressive entrepreneurial accountants in Bedfordshire, Hertfordshire, Essex and London. They have a wide range of clients in the areas that they service from their offices in Saffron Walden, Bishop's Stortford and throughout Beds, Herts and Essex. See their website http://www.cnmadvisory.com
In exchange for sponsorship, local companies and organisations can benefit from extensive marketing exposure via their own personal social media accounts, as well as through Grove Cottage's social media, website and email marketing campaigns. They will also be marketing opportunities through various fundraising events and activities to promote awareness and support.
To pledge your support, please visit their Facebook page at 'Al & Nicky's Two Ball Beach Rally Challenge in aid of Grove Cottage' or email them at alandnickyrally@gmail.com
Return to Latest News