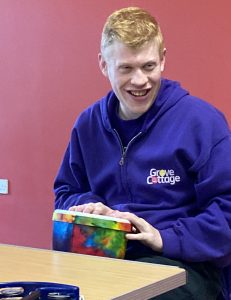 Harry is 21 and has a genetic condition which causes developmental delay. He has been coming to Grove Cottage since he was a young child and now attends our Get Active Club and Music Man Project.
Harry's favourite thing to do at Grove Cottage however is volunteering as a minibus chaperone! Harry's dad Graham drives the minibus for our Cottage Kids Club and Harry enjoys helping him out and loves operating the tail lift! Harry's future dream for when he is older is to be a minibus driver for Grove Cottage.
For Harry, Grove Cottage is all about having fun and seeing his friends as without these weekly clubs there would be no opportunity to meet with them. When asked if he would recommend Grove Cottage he said he would because it's so much fun.
Return to Latest News