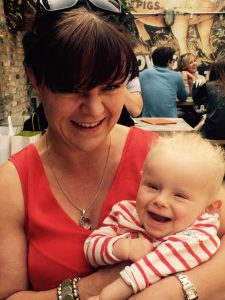 Sally-Anne How is mum to Ruben, two, who attends our Ofsted Regulated Special Needs Nursery four days a week.
Sally-Anne first took Ruben to the doctors in December 2016, but it wasn't until May 2017 that a diagnosis was made. He has a complex condition which affects his development. Sally-Anne said: "Receiving this news about Ruben was horrendous and completely debilitating. I knew I needed to get help."
Fortunately, Sally-Anne was told about Grove Cottage by a friend who thought we might be able to help. Sally-Anne says: "Ruben is stimulated and enjoys the social side of attending a nursery. He is always beaming from ear to ear when I pick him up and I see small differences in him every day. He enjoys swimming every week as well as organised trips, such as going to Cammas Hall Farm, meeting Father Christmas and day trips to the seaside."
Grove Cottage has also given Sally-Anne a lifeline at a time when she needed it most. Whilst Ruben attends the Nursery she has been able to concentrate on her own work, studies and charity projects which would not have been possible otherwise.
Return to Latest News